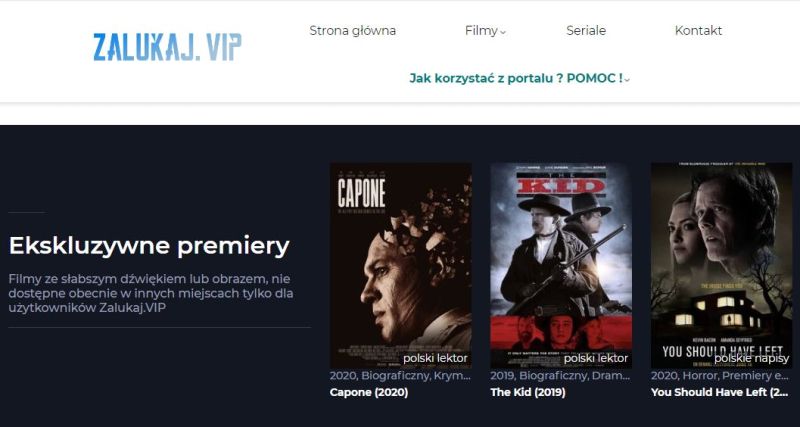 As reported by Wirtualne Media, the extremely popular Zalukaj.vip website in Poland, where previously illegally shared films and series could be found, was closed by the police. The site has been operational since at least February 2020; As a result of the activities of the Central Bureau for Combating Cybercrime (CBZC), two men were charged with illegal distribution of works protected by copyright, while the owner and founder of the portal was temporarily arrested. The entities harmed by Zalukaj's actions estimated their losses at several million zlotys.
Police officers from the Gorzów branch of CBZC already in November last year detained a 28-year-old man who was responsible for the technical service of the website. The 33-year-old owner of the portal was arrested in January in Pomerania. Both men were charged with violating Art. 116 sec. 1 and 2 of the Act on Copyright and Related Rights.
This is how Piotr Wójtów from the anti-piracy section at Canal+ Polska, a member of the Signal Association, which brings together broadcasters and distributors of video content in counteracting online piracy, comments on the whole matter:
Zalukaj.vip was one of the largest pirate websites disseminating movies and series. Its activity was based solely on the unlawful distribution of audiovisual content. This resulted in huge financial losses on the part of entities offering legal access to films and series in Poland and elsewhere.
In turn, Teresa Wierzbowska, the head of the Signal Association, reminds that in 2021, the Białystok court ordered the owner of another pirate website to pay as much as PLN 47 million to the injured copyright owners – in her opinion, that judgment should be a warning to all portals that illegally share video content.
The most pirated TV shows of 2022